Get 10% Off Use Code: GoodMorning
High Protein Super Rolled Oats Chocolate
Achieve Your Health Goals with 21% high plant protein
You'll Enjoy Guilt-free Chocolate snacking with 0 added sugar
Rich Fibre Content will make you Feel Fuller, Satisfied & Energetic
Supports Your Heart health and will help you Maintain healthy blood sugar levels
Enhances Your Focus & Mind Power
Sale price
Rs. 499.00
Regular price
Rs. 549.00
Tax included.
➢ Peanut Butter High Protein Super Oats - Chocolate
➢ Made with Natural Peanut Butter, Rolled Oats, and Cocoa
➢ Comes with No Added Sugar and, No Preservatives
➢ The Product is Non-GMO, Gluten-Free, and Vegan
➢ Consists of 21 G Protein, Zero Cholesterol, and Zero Trans Fat
➢ Good Source of Dietary Fibers and, Omega-3, Rich in Vitamins
➢ Rich in Minerals: Iron, Magnesium, Phosphorous, and Potassium
➢ Can help Reduce Constipation in Older Adults, Significantly Reducing the Need to Use Laxatives.
Manufactured Under US FDA, APEDA, BRC, and FSSAI Certified Facility, Under Strict Quality Control
➢ Alpino Peanut Butter Super Oats Chocolate is a healthy and versatile product. It is made with natural peanut butter and rolled oats, mixed with cocoa. The ingredient list includes no preservatives, zero trans fat, and 21 % of protein per serving! It's great for breakfast or snack time!
➢ Alpino products are manufactured under US FDA, APEDA, BRC, and FSSAI-certified facilities. The product comes with no added sugar or preservatives making it healthy and nutritious for you.
➢ Get nourishing nutrition with the Alpino Peanut Butter Super Oats Chocolate. It's a good source of dietary fiber and omega-3. It's rich in vitamins and minerals such as iron, magnesium, phosphorus, and potassium.
➢ This innovative product can be used as a Healthy Breakfast or a preferred snack to enjoy any time of the day. The super high protein and no sugar added Alpino Peanut Butter Oats Chocolate is good for older adults and children who are on a healthy diet.
Why people are buying the oats?
Not only they help me fulfil my daily goal but also tastes very good.
Testy And Healthy
The oats is a combination of chocolate and healthful taste. The chocolate flavor enhances to encourage and motivate towards more tasty life. Everyone should try it once.
Healthy and tasty oats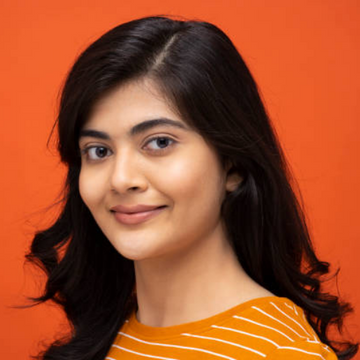 This product is a must for hard gainers. If you are struggling to grow weight, add this in your shake .
Its super effective
The product is worth purchasing. The oats taste very good and have a good amount of protein content. It helps very much in completing daily calorie intake.
worth purchasing
It's been a couple of weeks since I bought these oats, and they are absolutely delicious. Not only do they help me fulfil my daily goal but they also taste very good.
 Highly recommended
I had try so many oats but this one is undefined because of dark chocolate just go for it.
just go for it
Let's Face it: We can't rely on Those Boring OATS, Eggs & Coffee For Rising Up Our Mornings.
As an Health conscious Person, We need a minimum required amount of Nutrition & Protein from our breakfasts to start the day right.
But the Normal Boring Oats are sooo boring with less nutritional content that it becomes harder for us to stay consistent with them…
Other available options like EGGS aren't for everyone, especially Vegetarians , so you need to rely upon Instant Caffeine to give us an INSTANT Morning Kick, but that's not good for our health right?
At the end You're Left with Unsatisfactory Breakfast that gives you:
Unhealthy Sugar Cravings That Destroys Health
Lack of Focus & URGES To Distract Ourself
Energy Crashes That are coming between your GOALS
Brain fog That Smashes Your Brain Functioning
Lack of Good Sleep that ruins your Next Day
Mood Swings Making it harder to Control Emotions
Over eating that Keeps you from your weight loss goal
It's time to take Control of your MORNINGS & Your Days with this 1 Change in the Morning.
Start your Morning right with 👍
Essential Nutrients you can expect in Making your Mornings Good
Protein
Helps in hair & nail growth, better sleep and faster muscle recovery. It also improves your Concentration and Brain Functioning.
Healthy fats
Protects you from heart diseases and helps absorb essential Vitamins & Minerals.
Fibre
Shown to prevent sharp rises in blood sugar & insulin levels.
Iron
Helps in haemoglobin production & protects from anaemia
Calcium
Builds & Maintains Bone health
Potassium
Helps maintain Blood Pressure Levels and Cardiovascular health
3 Easy Steps to Revolutionize Your Mornings
Step 1
Start your mornings by pouring some Super Oats in your bowl
Step 2
Pour Your Favorite Milk and Mix.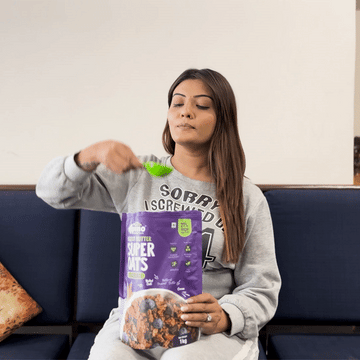 Step 3
Enjoy Your Goooooood Morning!
Meet the everyday superheroes who turn to Alpino for their super morning breakfast
IFBB Pro Junaid Kaliwala -
"Has replaced my Junk Snack & the best part is having high protein"
Creator & Caring Mom Varsha shukla -
Good for my 1 year old, never have to worry about his eating problem 7 Energy
Fitness Influencer & Content Creator
As a Fitness women, it supports my lifestyle from morning to evening!
Will oats increase weight?
Oats are generally recommended in a weight loss diet, because they are low in calories and high in fibre, keeping you full and satisfied for longer. Reducing your overall calorie intake during the day.
Can oats cause constipation?
No, Oats are a good source of fibre. And a diet that is high in fibre can help regulate bowel movements and prevent constipation.
Are oats gluten-free?
Yes, Oats are inherently Gluten-free. 
Our Super Oats are made from Just 3 ingredients: Rolled Oats, Natural Peanut Butter and Cocoa.
Is it for my 1-year-old Baby?
Yes, most 1-year-old children can safely consume oats as part of a healthy and balanced diet. In fact, Our Super oats can be a good source of nutrients like Fiber, Healthy fats, Iron, and B vitamins that are important for a growing child's development.
Does it help in weight loss?
Yes, Super Oats are rich in fibre that helps you keep fuller for longer periods and reduce your calorie intake during the day. Resulting in weight loss.
As a Pregnant woman should I consider this?
Yes, our Chocolatey Super Oats can be a good source of nutrients like Fibre, Protein, Iron, Healthy Fats and B vitamins that are important for both the mother and the growing foetus.