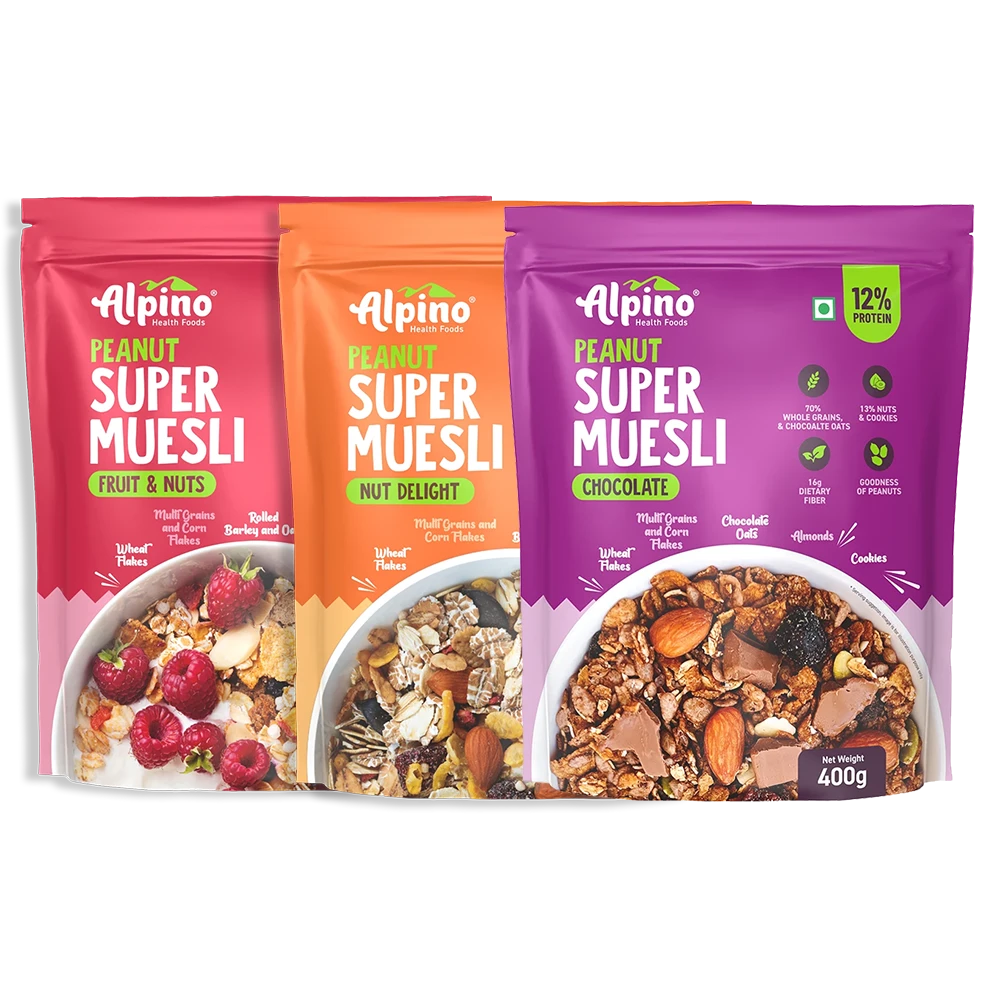 Super Muesli Combo - Fruit and Nuts + Nut Delight + Chocolate Cookies and Nuts - Super Value Pack
Sale price
Rs. 857.00
Regular price
Rs. 923.00
Tax included.
Offers Available at checkout.
➢ Peanut Super Muesli Nuts Delight
➢ Made with Roasted Peanuts, Rolled Oats, Multi Grains
➢ Comes with Real Dried Fruits & Nuts, No Sugar Infused Fruits
➢ The Product is Non-GMO and, Vegan
➢ Consists of 12 G Protein, Zero Cholesterol, and Zero Trans Fat
➢ Good Source of Dietary Fibers and, Omega-3, Rich in Vitamins
➢ Rich in Minerals: Iron, Magnesium, Phosphorous, and Potassium
➢ Manufactured Under US FDA, APEDA, BRC, and FSSAI Certified Facility, Under Strict Quality Control

➢Alpino Peanut Super Muesli Nut Delight is made from high-quality ingredients. It is a delicious mix of roasted peanuts, rolled oats, and other ingredients like cornflakes and dried fruits. The product is non-GMO and, vegan

➢It consists of 12 grams of protein per serving along with zero cholesterol and zero trans fat. Get maximum nutrition with Alpino Peanut Super Muesli Nut Delight since it is a source of Dietary Fiber and, Omega-3, Rich in Vitamins. Rich in Minerals: Iron, Magnesium, Phosphorous, and Potassium.

➢This is a safe and healthy snack as it is manufactured under US FDA, APEDA, BRC, and FSSAI-certified facilities under strict quality control standards.

➢Alpino Super Muesli is a healthier breakfast option than pastries and breakfast sandwiches. Raw oats contain a ton of resistant starch, which increases the number of calories burned per day. Digestive acids are released after the resistant starch is broken down and suppressed appetite is achieved, so you will feel full longer and eat less throughout the day.
Super Muesli Combo - Fruit and Nuts + Nut Delight + Chocolate Cookies and Nuts - Super Value Pack
Sale price
Rs. 857.00
Regular price
Rs. 923.00
Got the best deal !!
I bought this product on alpino 7th anniversary sale with a 1kg chocolate peanut butter. I got all these at 1000 rupees. First of all the taste is freaking amazing specially the chocolate one and is full of protein and nuts. Got free gifts a gift voucher, sipper and a hazelnut coffee.
Rice in protein
The Super Muesli Combo Super Value Pack is a delightful assortment of wholesome and flavorful snacks. The combination of Fruit and Nuts, Nut Delight, and Chocolate Cookies and Nuts offers a satisfying mix of textures and tastes. It's a great value for those seeking a healthy and indulgent snack variety.